Idea and Origin

Oh Really? was inspired by Personal Preference, a vintage board game I played when I was a kid (although we had to tweak the rules since the rulebook was no longer in the game box) as well as how I spent many evenings as an adult with friends.

I always said I would make my own version of the game one day. Even though I thought about it for several years, it wasn't until I took a trip to Mexico in 2018 that I created the very first prototype of this little card game. On the beach with three friends and margaritas, several dozen topics were quickly written on torn pieces of paper that were held down by rocks so they wouldn't fly away. We played it again and again until it was clear that I really should kick off this project.

During a bike ride after an afternoon of playing, my friend asked me, "What are you going to call your game?" I hadn't thought about it yet, so I said the first thing that popped into my head: "Oh Really? I'm thinking something along those lines."

And like most of my decisions in life, the first spontaneous feeling stuck.

Highlights of Playing

After tons of playtests with my friends, I can say with certainty that we laughed a lot and even felt awkward sometimes. I remember one moment when a friend admitted she preferred war over pushy salespeople. She defended herself by clarifying that she meant the historical academic subject, but we didn't let it drop. It became an inside joke after that!

There was another time I was playing the game during a first date and realized the guy hated everything I loved. I didn't see him again. (It ended up saving me some time in the end.)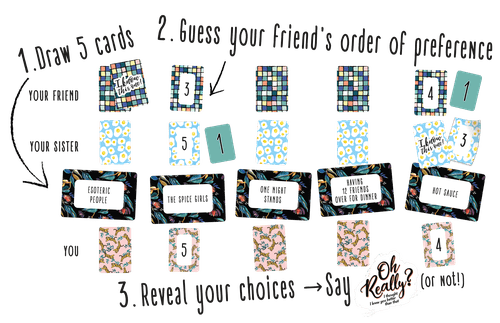 I admit, I have also always loved playing with couples, especially when they draw cards with more
mature and intimate themes. Seeing their reactions or embarrassment in front of their partner often says
a lot about their private dynamic, and I love that!
Experience as an Artist

In addition to being the designer of Oh Really?, I'm also a graphic designer and visual artist with a rather multidisciplinary practice and an immense need for creative variety. I'm constantly fueled by new projects and challenges, and this type of product fit in well with my existing line.
What occupies most of my time is my practice in galleries and exhibitions, where I mainly focus on repurposing old objects with typographic interventions and installations. These unique pieces are available only during these occasional expositions in different North American and European art galleries.

Between these expos, I focus on my company Merci Bonsoir, which is in the same spirit as the work in the galleries, but more in the spirit of affordable gift ideas to help make these creations accessible to any budget. I have my headquarters in Montreal in Hochelaga-Maisonneuve. This place serves as my workshop, office, warehouse, meeting space, and Merci Bonsoir shop — just short of a second home.


Randolph Discovers the Game

I started on the project a few weeks later in earnest. I conceived, designed, printed, and financed my own card game. The goal was to make it just for fun and sell it on my online store.

The first print run was a super limited edition of only 250 small boxes. Since Montreal is a bilingual city, I made the first version in both languages and called it Ah Ouinnn? on the French side of the box and Oh Really? on the English side.
A few months later, the Randolph team heard about my well-liked card game, and they offered to make a real, more commercial version using their team's professional experience. I accepted their offer with pleasure since I could really concentrate only on the parts I enjoyed: designing the box and cards, and the design/writing of the different topics.

Do you want to know what went through the mind of Joël Gagnon, the publishing director of Randolph? "I first saw the game as a prototype at one of the Randolph Game Pubs. A couple was playing this weird game. I asked the demoer why they were playing a prototype? He told me it was simply the best game to play on dates! I asked to borrow the game so that I could play it with the team at the Randolph office. We had a lot of fun! I thought it would be a good opportunity to contact the creator and offer to publish her game on a larger scale. That's how the collaboration with MC Marquis began."

Present Day

We released Ah Ouinnn? in 2019, and the English version Oh Really? in Canada in 2020, then Ah Ouinnn? Édition 25+ in 2021, and now the English version has made it to the USA! I can't say more now, but more editions are currently in the works, too. I hope you enjoy this fun little card game, whether it's on a first date or in the middle of game night with friends!

- MC Marquis, designer of Oh Really